Cast iron keto breakfast hash : Sausage, eggs and peppers
Here is a simple recipe for a Cast Iron Keto Breakfast Hash: Ingredients:
1 lb. bulk breakfast sausage
1 small yellow onion, diced
3 cloves garlic, minced
1 red bell pepper, diced
1 green bell pepper, diced
8 oz. mushrooms, sliced
1 teaspoon dried thyme
Salt and pepper, to taste
6 large eggs
2 tablespoons heavy cream
2 tablespoons butter
Fresh parsley, chopped (optional)
Instructions:
Preheat your oven to 400°F (200°C).
In a large cast iron skillet, cook the sausage over medium heat until browned. Drain any excess grease.
Add the onion, garlic, bell peppers, mushrooms, thyme, salt, and pepper to the skillet. Cook for 5-7 minutes or until the vegetables are soft.
In a large bowl, whisk together the eggs, heavy cream, salt, and pepper.
Pour the egg mixture over the sausage and vegetable mixture in the skillet. Cook for 2-3 minutes or until the bottom of the eggs start to set.
Place the skillet in the oven and bake for 10-15 minutes or until the eggs are fully cooked and the top is golden brown.
You can garnish the hash with fresh herbs, such as parsley or chives, for additional flavor and color.
You can also add in some diced onions or mushrooms for more variety in flavors and textures
This cast iron keto breakfast hash is a filling and delicious way to start your day while sticking to your ketogenic diet. Enjoy!
Side notes:
This dish can be served on its own as a complete meal, or you can pair it with a side salad or some avocado slices for added healthy fats.
To make the dish spicier, you can add in some red pepper flakes or hot sauce to taste.
To store leftovers, let the hash cool completely, then place it in an airtight container in the refrigerator. Reheat in the oven or on the stovetop before serving.
Another option to make this dish is to scramble the eggs and mix them in with the cooked sausage and peppers before putting the mixture into the oven. This method allows the eggs and other ingredients to cook evenly and creates a more homogeneous texture.
If you prefer a crispy texture, you can also add some grated cheese on top of the mixture before putting it in the oven.
This cast iron keto breakfast hash is a versatile and delicious dish that can be customized to your liking and dietary restrictions. Have fun experimenting with different ingredients and seasonings to make it your own!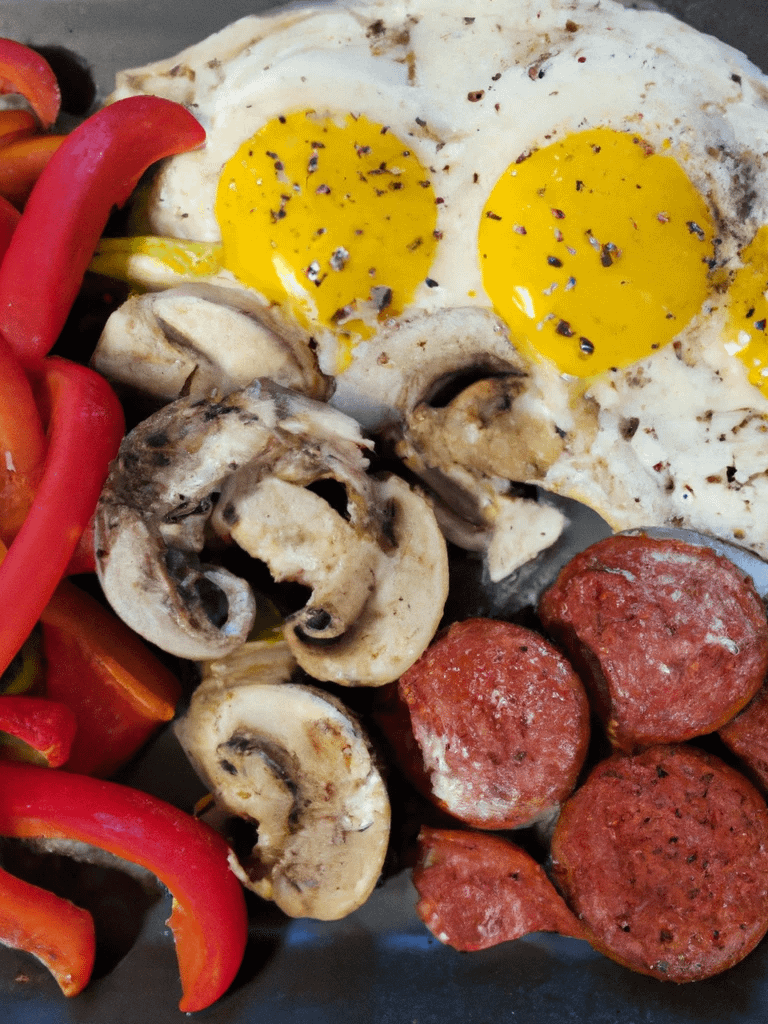 Cast iron keto breakfast hash : Sausage, eggs and peppers
Did you make this recipe?