The filling in this Cast-Iron Apple Cobbler is made with Fuji apples, which are a particularly sweet kind. For a more tart flavour, combine using Granny Smith apples. Warm fruit topped with a delectable sweet crust is simply enticing, especially when served with vanilla ice cream!
This recipe uses a sweet biscuit crust, which is our favourite cobbler crust. It is the greatest element of any cobbler because it is soft on the inside and crispy on the outside. If you've never prepared a sweet biscuit crust before, you'll be relieved to learn that it's a breeze! Slicing all of those apples is actually the most difficult part.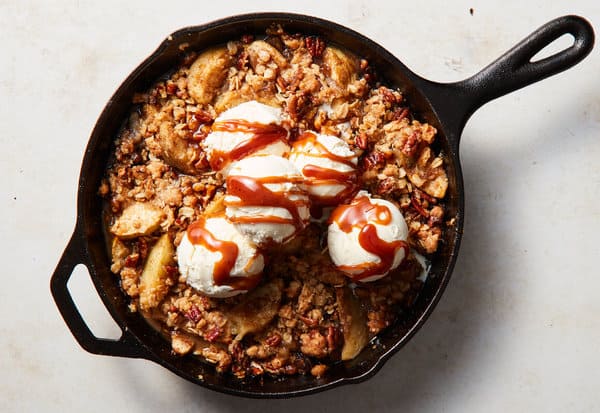 Cast Iron Apple Cobbler
Instructions
Preheat the oven to 375 degrees Fahrenheit.

Fill dry measuring cups halfway with flour and level with a knife. In a large mixing bowl, combine together 25 ounces (about 1/2 cup) flour, apple, 1/3 cup sugar, 2 tablespoons butter, vanilla, 1/2 teaspoon salt, cinnamon, and nutmeg. Fill a large cast-iron Dutch oven halfway with the mixture. Pour in 1/2 cup of water.

In a medium mixing bowl, combine the remaining 5 ounces flour, remaining 1/3 cup sugar, remaining 1/4 teaspoon salt, and baking powder; chop in 1/4 cup butter with a pastry blender or 2 knives until mixture resembles coarse meal. Stir in the buttermilk until the mixture is just moistened. By tablespoonfuls, drop batter over apple mixture. Bake for 1 hour at 375°F, or until bubbling and golden. Warm the dish before serving.
Servings 6
---
Amount Per Serving

Calories 257kcal

Calories from Fat 26kcal

% Daily Value *

Total Fat 7.4g

12

%

Saturated Fat 4.5g

23

%

Cholesterol 19mg

7

%

Sodium 348.99mg

15

%

Total Carbohydrate 46.09g

16

%

Protein 3.2g

7

%
---
Calcium

96

mg

Iron

1.1

mg
* Percent Daily Values are based on a 2,000 calorie diet. Your daily value may be higher or lower depending on your calorie needs.
Note
Half the amount and bake in a 12-inch cast-iron skillet for a small gathering.
Did you make this recipe?