Bread Baking in Cast Iron
On a warm summer day, there's nothing like the smell of fresh baked bread. The aroma sticks to your clothes, lingers in your hair and just about makes you want to forget about any other food this day.
Bread baking has become extremely popular lately. Some of you might not know how easy to bake amazing bread right at home. Yes, it is true. Baking bread can be fun and an enjoyable experience. There's really nothing better than the smell of freshly baked bread wafting through the house (unless it's cake).
Dutch ovens are excellent heat conductors, thus baking bread in one will result in highly even cooking. The first stage of baking with the lid on traps steam inside the dutch oven, which is necessary for the initial rise. It also gives your completed loaf a beautiful shape and structure and improve the taste as well.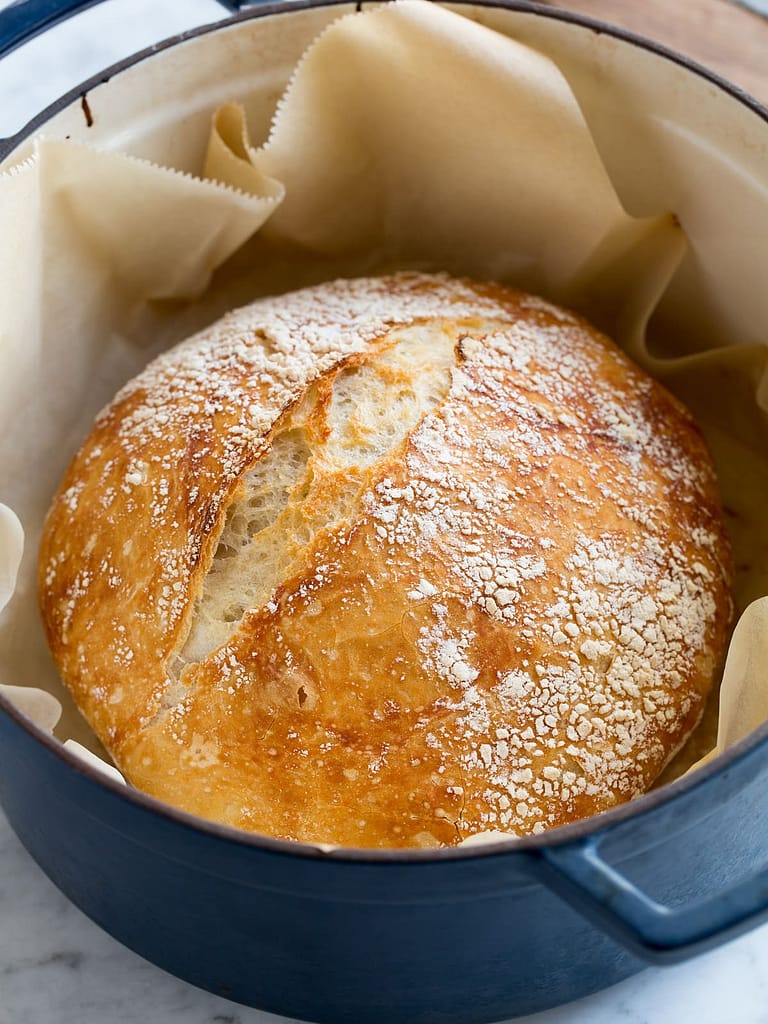 Bread Baking in Cast Iron
Instructions
Instructions
Stir the water, honey, and yeast together in the bowl of a stand mixer fitted with the dough hook.

Allow 5-10 minutes for the mixture to froth up.

2 1/2 cup flour, olive oil & a pinch of salt

Knead on low speed, adding 1/4 cup of flour at a time, until a soft, silky dough forms that clears the sides of the bowl.

Continue to knead for 5 minutes on low once the dough has formed.

Allow 30 minutes for the dough to rise.

Place the dough in a cast iron skillet and roll it into a tight ball. I cook in a 12-inch skillet.

Cover and set aside for 30 minutes to allow flavours to meld.

Set your oven rack to the lower centre position and preheat oven to 400F near the conclusion of the second rising time.

Cut two slits widthwise and one lengthwise just before putting the bread in the oven.

Bake for 12-20 minutes. Keep an eye on the bread at the end of the baking time because it will colour quickly.

Optional:  brush melted butter over the baked bread and season it with sea salt.
Servings 12
---
Amount Per Serving

% Daily Value *

Total Fat 3g

5

%

Saturated Fat 1g

5

%

Sodium 293mg

13

%

Potassium 44mg

2

%

Total Carbohydrate 29.99g

10

%

Sugars 3g

Protein 5g

10

%
---
Calcium

6

mg

Iron

0.98

mg
* Percent Daily Values are based on a 2,000 calorie diet. Your daily value may be higher or lower depending on your calorie needs.
Note
Feel the water if you don't have a thermometer. It should be somewhat warmer than bath water, but not uncomfortable warm. If it's too hot for you, it'll be too hot for the yeast as well.
In this recipe, we like to use olive oil. In place of the olive oil, another neutral oil should suffice.

Only a cast iron skillet was used to bake this bread.
You can lightly coat the outside of the bread with butter and sprinkle it with sea salt once it has finished baking. Although the butter is optional, it does assist to keep the crust supple.
Did you make this recipe?