Blackened Tilapia with Garlic Lime Butter in Cast Iron
The blackening seasoning in this recipe blasts the tilapia with heat, while the lime juice's acid brings out the fish's freshness. Tilapia is a fantastic option. Because it's light, the spice rub stands out but isn't overpowering. With the colourful slaw on the side, this dish is quick to prepare and tasty.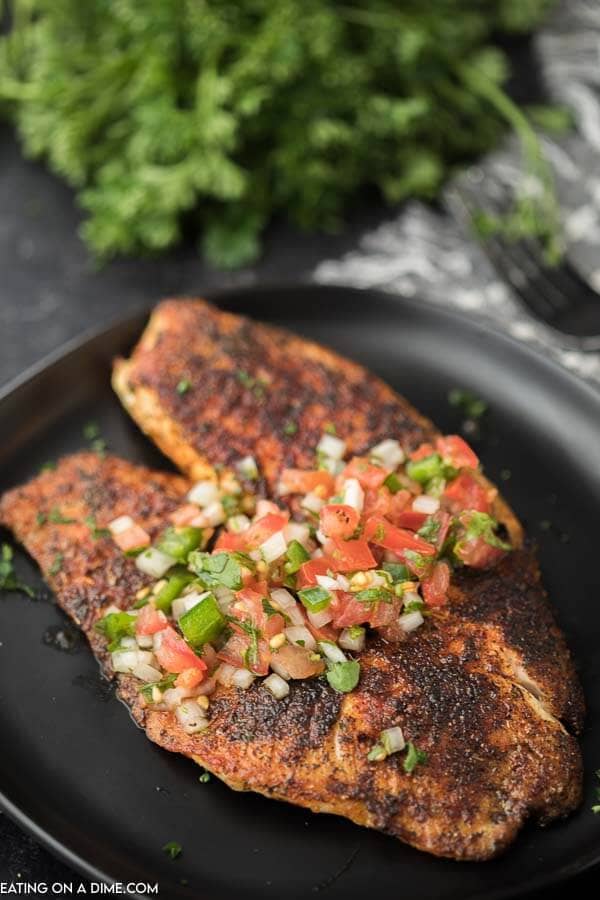 Blackened Tilapia with Garlic Lime Butter in Cast Iron
Instructions
Instructions
Instructions

In a small mixing bowl, combine the butter, cilantro, garlic, lime zest, and lime juice and swirl thoroughly to combine. Set yourself apart.

Warm the oil in a large forged-iron skillet or sauté pan over a high heat source. Rub the blackening rub all over the tilapia.

When the oil in the pan begins to smoke, add the fish and cook, uncovered, for 3 to 4 minutes on the first side, or until the spice rub has darkened and crusted.

Cook for another 1 to 2 minutes, or until the fillets flake when gently pulled apart with your finger.

Transfer the fish to four serving plates and top each with a dollop of the flavoured butter.
Servings 4
---
Amount Per Serving

Calories 300kcal

Calories from Fat 126kcal

% Daily Value *

Total Fat 14g

22

%

Saturated Fat 5.97g

30

%

Sodium 510mg

22

%
---
* Percent Daily Values are based on a 2,000 calorie diet. Your daily value may be higher or lower depending on your calorie needs.
Note
In a scorching-hot cast-iron skillet, you can get the entire sear you want.
In a large skillet, heat a thin film of oil over high heat (and turn on the kitchen fan).
Carefully add the fish or meat when wisps of smoke begin to rise from the oil.
For at least 2 minutes, don't touch it; you want a dark crust to form over the protein, and playing with it will prevent this.
Cook on one side for 75 percent of the time, then flip and finish on the other.
Did you make this recipe?